Auto Injury Treatment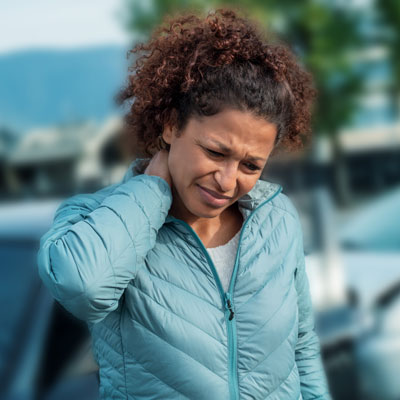 Whether you find yourself involved in a low-speed fender bender or a higher speed collision your body has sustained considerable damage. It's critical to seek care right away as symptoms will worsen over time if they're not promptly addressed.
"Even if you don't experience problems a few weeks down the road you likely will a few years later. You'll begin to feel that car accident again, so chiropractic will help to not only restore proper function and repair the injured area but help correct it for later on so that the injury doesn't become worse or contribute to other factors later on in life," said Dr. Symes.
What to Expect
Dr. Symes will sit down with you to find out more about the accident and then he will perform a thorough exam to determine the extent of your injuries. After he has all of the necessary information he will put together a care plan.
Here are some of the most common auto accident-related injuries for which patients seek our care:
Concussion
Spinal misalignment
Sprains and strains
Whiplash
Do you work with insurance companies?

Yes, We will bill the insurance companies for auto accidents, or personal injuries, and we will even work with third-party claims.
How long does it take to recover from a car accident?

It depends. Everyone heals differently, so it depends on the person and the extent of the injury. However, chiropractic can help you recover faster and allow you to get back as close to your pre-accident status as possible.
Do you recommend other therapies to patients?

Yes. Often, we will suggest a patient receive massage therapy and sometimes physical therapy. It depends on the person, what's going on, and how fast Dr. Symes feels they're recovering. "Depending on the severity of the accident, if they're coming to me with post-concussive symptoms, I'm going to have another set of eyes on them right away," he said.

Auto Injury Treatment in Eagle ID | (208) 297-1414